This aquarium light is very suitable for you, with
high light transmittance, super energy saving, long life and low heat
. It is an excellent way to change the underwater scenery.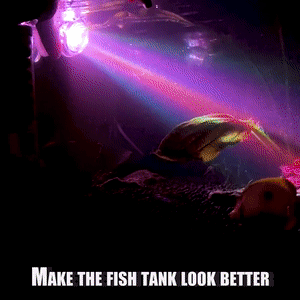 Produce an impressive RGB color air curtain, provide oxygen for your fish, enhance the color of fish and corals
, and provide stunning lighting effects during the day or night, which can
make your fish tank a colorful landscape
and let you The aquarium is like a part of the ocean.
Main Features
High Brightness
Convex lens design, better condensing effect, brightness is twice that of ordinary lamps. LED lamp beads have

 

high brightness, strong penetrating power, energy saving and long life.
Amphibious
Two-layer sealing and waterproof technology,

 

the interior is directly filled with glue and sealed, and the waterproof level of the lamp holder is IP68, which can be fully submerged.
Low Energy Consumption
1W low power, energy saving, environmental protection and electricity saving, less than once a month, does not harm the health of the fish, and increases the fun of fish farming.
360° Free Rotation
The direction of the lamp body can be adjusted according to your requirements.

 

Adjusting the light to different angles

 

will result in a colorful scene of streamers and achieve a charming visual viewing effect.
Multiple Occasions
A variety of light colors, suitable for fish tanks, pools, landscaping, etc.
Using Methods
1. Fix the spotlight on the cylinder wall
2. Turn on the power
3. Adjust the position of the spotlight by rotating to achieve a better visual effect
Specifications
| | |
| --- | --- |
| Material | |
| Lamp Beads | |
| Power | |
| Voltage | |
| Power cord | |
| Product Weight | |
| Light color | white, yellow, blue, red, green, colorful |
| Package Contents | LED Fish Tank Diving Light × 1 |

Notes

1. Connect the separate transformer and do not touch water, otherwise it may cause a short circuit; when installing the goods, removing and washing the lamp body, you need to unplug the power plug to ensure safety.
2. Please protect the lamp body, if there is a collision, please check whether the lamp body is broken, and stop using it if it breaks.
3. This product can be used for both land and water, so there is no need to worry about the environment at all.